Val Stasik's Books

---
INCIDENTAL DAUGHTER
Available on Amazon, Barnes & Noble,
and Other Booksellers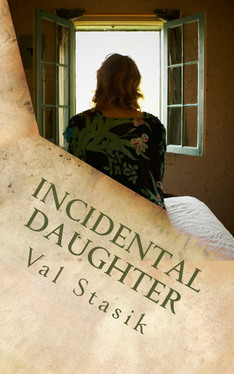 My novel is available as a paperback, a Kindle edition, and now as a Large Print
Edition
http://amzn.to/17iPuVc
on Amazon.com.
Clicking on either image below will take you directly to the sales page.
By the way, you can now gift a Kindle version.
To order from
Barnes & Noble
, go to
http://www.barnesandnoble.com/w/incidental-daughter-val-stasik/1114319440?ean=9780988584709
or to
http://www.barnesandnoble.com/w/incidental-daughter-val-stasik/1116009955?ean=9780988584723
for the Large Print Edition.
To order from your local bookstore
, provide them with this
ISBN for the standard version: 978-0988584709
or for
the Large Print Edition: 978-0988584723.
They may order it from
Ingram
.
Book Description
: When Liz's ex-husband plans to stage her suicide in order to collect on a life insurance policy, he topples to his death instead. Liz becomes the prime murder suspect. Enter Detective Jim Shannon, who may threaten her freedom or possibly gain her love. Her swirling feelings are complicated by the simultaneous appearance of a talented, familiar-looking intern at her workplace. Although Liz is finished with a past that included a botched meeting with her biological father, the past is not done with her, for the intern and Shannon link to that past. Internal conflict is soon compounded by external threats created by her ex-husband's mother as well as someone seeking revenge on Shannon and his fellow detective. Will Liz be destroyed by this vortex, or will she use the crisis to open the door to a second chance at love and family?
See the excerpt below.
---
---
Excerpt from Incidental Daughter

---