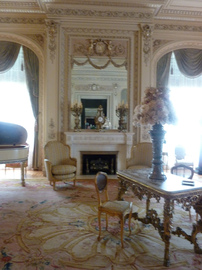 I've begun reading Anne Rice's
The Wolf Gift
. The first chapter is a lesson in how description can create the suspense necessary to capture the reader's interest. Ordinarily, I would say a story might best begin with an exciting incident or riveting dialogue. Rice begins with a description of Reuben, the main character, and a little of his backstory, establishing his uniqueness. She continues with a vivid, detailed description of the setting. One might say that there is entirely too much detail, but in this instance, the suspense is in the details. So many of the furnishings and research items left by the great uncle who once owned the mansion are rare; antiques from different times and countries. The mansion is isolated on a cliff overlooking the Pacific near a large redwood forest that can never be logged. The reason for the sale of the property piques our curiosity. What did happen to the great uncle who went missing twenty years ago? This was a man of the world, an archeologist, who with a few close friends explored the mysteries of many digs.
Rice also makes it clear from the beginning that Reuben has little to restrain him from being just the one to be entranced with the mansion and its possibilities. He also has the money to buy it. Reuben is twenty-three and from San Francisco. The only thing I found odd about him is his speech. He's no immortal, but he talks like someone from an earlier time, not a contemporary young man.
I'm looking forward to finishing this novel, and I don't think Reuben's lack of contemporary speech will ruin it for me.
_______________
For a chance to win a copy of
Incidental Daughter
, sign up to receive my occasional email. I do not share or sell my list, nor do I spam. You'll only hear from me once in awhile about upcoming events and items of interest. CLICK HERE and write "Sign me up."
GIVEAWAY OPEN ONLY TO U.S. RESIDENTS.
_______________
Authors
,
CLICK HERE
for
Treasure Finds
for Authors
. This section is updated regularly with finds from various other blogs that deal with writing, publishing, and social media. Check back often.