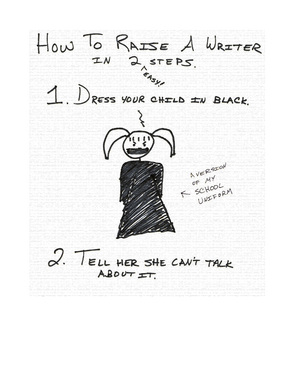 Last time, I talked about how essential the plot device of free energy was to Chet's story. In a suspense novel, a page-turning plot is important, but just as important are the characters. Every reader needs to identify in some way with the characters in a story to be engaged, so it's important that the characters be believable and sympathetic—even some of the obnoxious characters should eventually be somewhat appealing. After all, few of us have lived without being offensive in some way at least once.
One of my writer friends used to keep a notecard above her computer. It said, "Go deep." This is excellent advice, especially for someone like me who overdoes what a famous writer—I think it was Elmore Leonard—once said: "I leave out the parts the reader will skip over." I get so worried I'll bore my readers with too much detail that I end up with too short a story. That's what happened with Chet's story. Of course, my first drafts really are rough. What I'm finding in this revising process is that I'm really rewriting. It's a good thing because I'm doing a creditable job of going deep, and I hope not adding details my readers will skip. The story is getting longer. Yes, it's taking me a long time. I know, Stephen King has a decent manuscript in just a few months; however Ray Bradbury took five years to produce a book.
Going deep in this rewriting process has me not only clarifying and adding plot details but also fleshing out the characters and their relationships further. My goal is to do this without relying on that old standby, backstory. A little mystery about the characters entices readers, and I have novels in mind for at least two of the other characters. This is Chet's story, yet I worried that he might not seem important to the reader, that other characters might take over his story. I soon realized that I had to take the reader into the emotion of his phobia and his concerns about his relationships and the future. We all deal with change, probably more so when we are leaving adolescence or when we are approaching our final years. Focusing more on the characters and their relationships deepens the inner conflict and what the story is really about—people.
I'm eager to finish the rewrite. This is an exciting and satisfying process, I guess because it involves problem solving strategy as well as creativity. I'll have some idea if what I'm doing actually works when I send my manuscript to my beta readers. What are beta readers? They are very generous but honest friends who read the work and respond with what works and what stinks. Then I plan to hire a reputable story doctor/editor, C.S. Lakin (http://www.livewritethrive.com/), before sending it out for a final edit. By then, I hope to have an engaging, entertaining story.
For more about plot and character, go to one of my previous blogs:
http://valeriestasik.com/4/post/2013/07/character-or-plot
.
Yours, Valerie