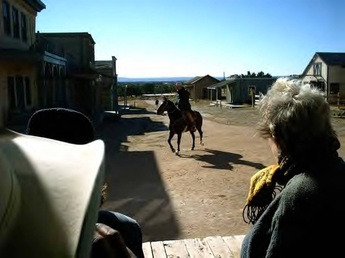 I took a "vacation" of sorts from my writing routine for a few months. Sometimes distancing oneself from the intensity is necessary for one's sanity and, as I've come to realize, one's creativity. Distance: It makes the heart grow fonder, right? I had moments of guilt but assuaged that guilt by realizing my young adult book still lurked within me even though I was not physically revising it. As I weeded the overgrown yard, as I planted succulents and hanged baskets of flowers from the gazebo, as I placed the hummingbird feeder and birdseed feeder, as I ate my meals beneath the gazebo and contemplated the chittering birds and shy lizards, as I caught up on past issues of The New Yorker, as I helped my friend Sheri with her website, as I visited my son and his family in New Hampshire, as I mourned the death of my sweet little terrier Sugar in April, as I regretted not visiting my friend Sunny in Florida before she passed in May, as I considered volunteering my newsletter skills to the New Mexico Book Association, as I shopped and cleaned, as I worshipped at the Roku altar to get my money's worth of Amazon Prime, I found myself still working on that novel—noting articles on alternative energy, grasping what the book was really about, deciding how I would approach getting feedback, and reconsidering when I would publish it.

My fellow writer, Maxine Davenport, loaned me her copy of Stephen King's On Writing. It was such a personal account of how he writes, so different from most books on writing. It was a pleasure to read probably because it was so heartfelt. What captured me was his process. He writes the first draft "with the door closed." The second draft is done "with the door open." He does not let anyone see his first draft. He works on it until he has a satisfactory second draft. That is the one he shares for feedback. I belong to a critique group of some very kind-hearted and perceptive people; however, having to come up with ten to twenty pages every two weeks for the group was daunting for me. Writing does not come easily for me. I also find it disorienting to work this way. I mull a great deal; I need time. That first draft should just come out and yet there should be plenty of time to mull. The muse needs to be unrestricted. Creativity is sloppy, without rules. One needs to get into the flow, the Zen of writing. Sometimes you don't know where you're going with a story, and sharing it before you get to your destination can be so restrictive. I didn't learn what my novel was about until I reached the end. I also think that when your critics read a complete manuscript, it's easier on them and more productive for you. (Note to my former students: Much of what I taught you is valuable. Much you can ignore. Read King's On Writing and you'll understand.)

While I was "vacationing" with my novel sending me postcards so I wouldn't forget it, I developed the idea for a spinoff young adult novel with one of the characters from the first book (Lupe) as the main character. I also found myself ruminating about some short stories I'd started but not finished. And there are poems I should submit to the literary magazines. And I thought I might publish my play and film scripts in a collection.

I have decided to publish the young adult novel I've been working on when I have that second one pretty well on its way. And, yes, there is a third book with one of the other characters (Hank) as the main character. I haven't completely settled on the plot for that one—but I will. That way, my readers won't have to wait so long for another.

Yep. Vacation's over.

P.S. Re the above picture: Checkmate (later renamed Showdown at Galisteo) is a script Sunny Fader and I wrote for Sheri Mann's acting class. We were given the opportunity to film it at Eaves Ranch. The Cheyenne Social Club was first filmed here, and the place is still used for film work.