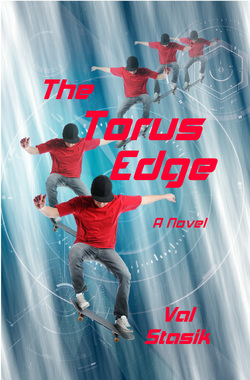 While I revise and rewrite my young adult novel, tentatively titled The Torus Edge (I'm considering a better title), I am going to share my independent publishing experience with you. My company is Armery & Hallquist Publishing and only publishes my books at this point, which makes me a self-publisher. Why self-publish when it's so much work and responsibility and when many self-published books are poorly done, making every self-published book, regardless of its good quality, appear suspect? Primarily it's about control and eliminating the "middle man" (read publisher) who takes such a bite out of profits. It's also about avoiding incompetent or dishonest literary agents and publishers. A few literary agents let your manuscript gather dust for months instead of shopping it aggressively (always establish a deadline in the contract). Some small publishers have failed to pay royalties to their authors or gone out of business.

Now, self-publishing isn't for everyone. You need to be multi-talented or have access to talented help or be able to research competent help, have time and patience, be willing to spend your own money (budgeting ahead of time is crucial), and have the chutzpah to promote your book, indeed, a Herculean task. You must also beware the many "services" and subsidy publishers that have sprung up to take advantage of self-publishers (this is where research is especially important).

The advantage to having a publisher is that someone else is responsible for the book design, cover design, editing, distribution, and promotion, not to mention you get an advance on your royalties (Note: some publishers have sued authors to get back their advance when the book doesn't perform as expected). Having a traditional publisher also makes it easier for your books to end up in bookstores. You see, bookstores need to know they can return unsold copies. This isn't the case with self-publishing presses like CreateSpace unless you distribute to bookstores yourself with the promise of accepting unsold copies. Doing that would take even more time away from writing and may only work with independent bookstores. (I've recently heard that Ingram's POD division can get your book into the big chain bookstores because they will accept returns.)

However, the publishing industry has been changing and continues to change dramatically. Author advances are far less than they used to be, and the huge advertising campaigns are reserved for the big-name authors. Publishers want authors with several books in the works and who will be around for several years. (I can't promise I'll be here and functioning the next twenty years.) Authors are required to do a lot more promotion on their own, especially social media, so you don't escape that part of the process. Publishers are market driven and must second guess what the market will be like in two years, which can limit your acceptance no matter how well you write. Publishers are, after all, in business to make money, and it's a tricky business where gambles sometimes don't pay off.

Unless you're James Patterson, Stephen King, or any other well-known author, your book may spend only a few weeks in bookstores—if you're lucky. Some books, especially if you are not a big-name author and your book has received a bare minimum of promotion, may take more than a few weeks to catch on, but bookstores can't afford to have your book occupy the retail space until it catches on. They, too, are in business. What happens to the copies that aren't sold after a few weeks? They are returned to the publisher who then sells them at a huge discount to bargain book distributors and stores. You receive no royalty on these books. The publisher cuts its losses, but you get nothing.

Why do I choose to self-publish? I love the challenge and the opportunity to be involved in every aspect of getting my book to my readers. I don't have the patience to wait on an agent to get my book to a publisher and walk the floors a year or so, waiting for the publishing staff to get it into bookstores. I've researched and studied every aspect of self-publishing. I enjoy doing the book design, and this time around I'm designing my cover from scratch (see the picture). The final cover will probably look quite different from this first effort, and I'm considering a better title. I may even hire a designer to improve it. But doing it myself helps me to finally decide what I want and what will really be effective. Yes, it's a matter of control, and I don't have to worry about copies ending up in the bargain bin at a discount store. With print on demand and the ebook version of the book, I don't even have to worry about stockpiling copies in my garage like self-published authors once did. Many of us are ambivalent about the behemoth, Amazon, but they do get your book out, pay you a decent return, and your book stays available until you remove it from their site. Not everyone buys books on the Internet, and many really prefer to browse in bookstores; however, selling online is a good place to start for the self-published author.