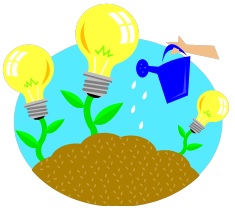 The idea for the young adult story I'm working on has changed considerably since I first decided on the concept. Several years ago, I was teaching my students the basics of writing a novella, using an example throughout the writing process to illustrate the planning (prewriting) steps. I enlisted the character of a skateboarder whose issue was coming to terms with his guilt over the deaths of his father and brother as well as the prospect of his mother beginning a new relationship—a pretty commonplace issue, but it served its purpose as a model.
I've wanted to write the story for some time. In the meantime, life went on and many other experiences have influenced me. Certainly, no one can escape awareness of our environmental, economic, and societal crises. And so the story in my head has become more complex. A major stimulus for the current version of my story is the information on energy from Foster Gamble's Thrive Movement,
thrivemovement.com
. Gamble (a scion of the Gamble family of Proctor and Gamble) and his wife have produced a film, now free at their website, that explores many issues that prevent all people from thriving and offers suggestions for increasing the opportunity to thrive. There have been many books recently that also address these roadblocks to all of us enjoying a fulfilling existence. We are indeed in an era of dramatic changes, some scary and some awe inspiring.
I've chosen to write the story as a suspense, perhaps with overtones of science fiction. The main character still wrestles with his guilt, but added to the mix is a conspiracy and surprises about what really happened the day of the accident that so dramatically changed everything in his life.
_______________
For a chance to win a copy of
Incidental Daughter
, sign up to receive my occasional email. I do not share or sell my list, nor do I spam. You'll only hear from me once in awhile about upcoming events and items of interest. CLICK HERE and write "Sign me up."
GIVEAWAY OPEN ONLY TO U.S. RESIDENTS.
_______________
To celebrate the recent publication of the Large Print Version of
Incidental Daughter
, I'm offering the Kindle version FREE from July 31 - Aug 4. Click on
http://amzn.to/17iPuVc
. This will take you to the sales page for the large print edition where you can click on the link to the Kindle version to order it.
_______________
Authors,
CLICK HERE
for
Treasure Finds
for Authors
.