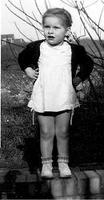 I find it interesting that people who come from the same background are drawn to different careers. Why does one person become a writer and another not? Is it genetic? In some instances, it does run in the family. For example, James Lee Burke's daughter Alifair is a published writer although her writing style is vastly different from her father's. Perhaps it results from an environment rich in valuing books. However, I sometimes wonder if it isn't just a combination of unrelated factors that instills the desire—the passion—to create life on the printed page.

I am the only writer in my entire extended family, despite the fact that most of us are educated. I think much of my call to write is due to my love of books. The books in my preschool years consisted mainly of a few animal picture books, those little Golden books, and many comic books. I don't recall being read to, but my sweet Uncle Joe would take me for rides so my grandmother could get some work done and perhaps have a little peace. On these rides, we would "talk." He would read the billboards and have me repeat sentences, correcting my pronunciation when necessary. One I still remember is "My mother works at the A&P." So oral language development may have served as a factor in my focus on words. Oral language is a necessary first step in literacy. I also believe being the first grandchild and indulged by an entire family of adults instilled confidence in me (and possibly a penchant for the dramatic, a trait many spoiled children exhibit). What writer doesn't need confidence (and, yes, a penchant for the dramatic)? I was well past six when I first entered school (my birthday is in January) and completely illiterate, but I soon grew to love words and rose to the top reading group by the end of the year.

However, I must credit the local public library for my lifetime love affair with words. At some point in fourth grade, a small group of us girls hiked up the hill on the eastern end of Carnegie to the library and got our cards from bird-boned, ferocious, carrot-haired, old Miss Harris, guardian of this marvelous temple of doors to other places and times. The library became my second home, my stargate to other worlds. My goal was to read every book there. I remember reading all of Louisa May Alcott's books; Captains Courageous; Rifles for Watie; some of Mark Twain's books; the biography of Raymond Lee Ditmars, a herpetologist (even though I don't like snakes); many fairy tale books; and later, teen books by authors like Betty Cavanna. However, I never did read every book there.

I think film and (don't shudder) TV were factors as well. My grandmother would take me to the movies every week. That was when a child could get in for 25 cents--and we saw double features. I loved the stories on that bigger-than-life screen. They were not children's movies although we did see a few of them, but films were far more innocent then than they are now. Besides, I don't think my Polish grandmother was aware of the Legion of Decency. Those movies were the highlight of our week.

My earliest recollection of TV was one winter night when my Uncle Wally carried me over iced streets to neighbors who were among the first to have a TV. They and my family watched a show called "Rocky King, Detective," starring Roscoe Karns. We got our own TV not long after I started school. TV was a little more like PBS at that time. There were some great stories--and soap operas galore, but what remains with me are the Studio One and Hallmark productions. I recall seeing Death of a Salesman, The Bad Seed with Patty McCormick, and The Old Lady Shows Her Medals (a play I later directed).

Then came the people who encouraged the writing bug in me. I wrote my first story in 7th grade. Miss Turney, our English teacher, asked us to write a story, and I wrote passionately in my horrible scrawl, proud of my effort and inspired to think of myself as a writer. In high school, one of my English teachers encouraged me to enter an essay contest on why our town should undergo redevelopment. I was one of the winners. (However, redevelopment was a big mistake and destroyed a lovely piece of Americana. I know my essay had nothing to do with that, but it saddens me just the same.) I was also active in the dramatic interpretation category in forensics. Many weekends, our teams would compete in speech tournaments with students from other schools. We got our cuttings from French's Dramatic Service, but I soon started creating my own cuttings from the plays of writers like Oscar Wilde and Euripides. (Luckily, most of the plays I cut were in the public domain. I don't think the intellectual property police were checking on ignorant high school students like me at that time anyway.) I think doing these things helped me develop an awareness of story elements.

In my freshman year at the University of Pittsburgh, Mr. Shapiro took an interest in my writing. He encouraged me with insightful comments (one of the most helpful was the comment "I like your descriptions, but nothing happens" on a story I'd written) and made me feel like I had talent. Considering I came from a small town outside Pittsburgh and was in classes with sophisticated kids with a better foundation from New York and New Jersey, I was truly touched by his belief in me. The following year, Mr. Herman took up where he left off.

In later years, I learned that my father's mother Josie, a teacher in Steamboat Springs, CO, enjoyed writing—had, in fact, written the history of her grandparents' homesteader journey to Sundance. So maybe it's genetic as well.

I am quite grateful that I have this skill to take me through my "golden" years. Besides, I have those expectations from my early mentors (not to mention my current ones) to live up to. I am never bored and never depressed. There's no time for that because I'm always busy writing. At the end, let them find me with a smile on my face and a completed manuscript in my hands.